Being alive, Alivement is crucial to switch from surviving to thriving. To support you on this journey, in times of global existential and spiritual crises, we are working on the MANUAL FOR THE NEW HUMANITY as a blueprint for creating and operating in the new world, which we remember from the best possible future. Dive in and let yourself be inspired and elevated. Watch the series of 118 videos
Ariana's Manual for the New Humanity
about the vital themes:
In frame of an Alivement Zana invites you to a personal session, which can be described as a self healing process and a joyful return to your natural state; which offers a beautiful pathway to repletion as an expression of inner freedom.
This is a special communion of two people; where one is completely present in giving and the other in receiving. Loving touch, which is connected with your primary sense, invites you into a unified field of knowing and being in the moment. It brings the potential of detoxification through the presence of love. The low-frequency energy of viral fear blocks the activation of neural pathways and their high- frequency, multidimensional bridges. In the session, a special type of energy is used, and when concentrated in a body, works intensely as a transformational tool in the here and now.
The session is individually tailored for each person, and follows a natural progression of movements. Beginning with a greeting and celebration of connection, followed by a beautiful process of 'de-shelling' the many layers and masks of protection generated by life, and concluding with touching the points of pain and ecstasy. The physical body provides places that anchor many fears, traumas, toxins and other programs of limit, as well as places that hold the answers needed to heal all of these. Your conscious awareness will be guided into these places on and in your body, which is not possible with other forms of mental therapy; because only your body has active access to Life Source, which is the home of your higher wisdom. The mind is mostly not capable of providing this state. The intention that underpins this powerful process is to reach your inner power, in order to take this impulse and live your full potential.
Practically, each session is a unique and personalised combination of loving touch, massage techniques, breathing methods, pressure point activation, full body energetic release and other supportive processes.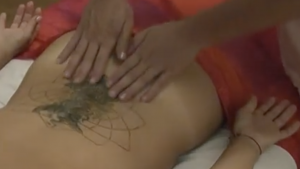 "Testimonial – My 50th Birthday was my ReBirth day, because I received the priceless gift of a therapy session with Zana. I did not know what to expect, but in my heart, I sensed that something life changing was about to happen to me.
I entered the space she had prepared and was immediately touched by a beautiful sense of sacredness and safety. The loving atmosphere; warm, fragrant and welcoming, offered sanctuary and invited openness.
From the very first moment I could feel that Zana was totally present with me; sensing and responding to what I most needed on every level. She was not following any proscribed protocol or procedure. Within seconds, I relaxed into a state of deep trust, and for the first time in my life, I felt able to drop my shield, shed my skin, and surrender to the simple truth of my whole being.
The details of my session are not for description or discussion, but I would like to share that Zana's skills and abilities were more than a match for any resistance and fear within me. I was quite unaware of the extent to which I was still holding old patterns of information and energy within my system; locked as they were into my body. She masterfully (and magically) navigated the landscapes of my pain, danced around the dead zones of my delusions and gently illuminated the pathway back to myself.
She worked consciously, powerfully and effectively with my energetic, physical and psychological fields, never pushing, or forcing anything. She lovingly invited me to feel the truth of my body, to open to it's meaning and movement, and to simply… choose. In the moments where I felt unable to move or make a clear decision, I was immediately filled with the deepest trust in her and her art, which gave me the inner strength to transcend any limit and step back onto the path of freedom within me.
I was in awe at the depth of the healing opportunity she creates, and I continue to build on the truth foundations that she helped me form during our session. I would highly recommend her work to any man who feels something is not aligned within himself"
Cedar